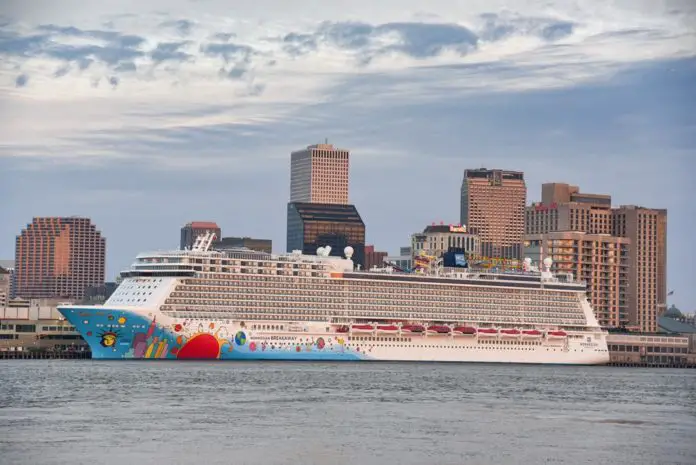 Owing to the ongoing weather that is causing havoc across the entire state of Florida. Cruises lines are having to make decisions on whether to port or stay at sea.
Norweigan Cruise Line has made the decision to port 2 of its Florida based ships in Lousiana at the Port of New Orleans. At Present Norwegian Sun and Breakaway are heading for the port as this story is developing.
NCL released a short statement in regards to the current situation. "As we continue to monitor Hurricane Dorian in the Caribbean, we are in constant communication with the United States Coast Guard to ensure we are taking all necessary precautions to maintain a safe and secure sailing for all guests and crew onboard"
"While it is our every intention to maintain the original itinerary as much as possible, the security of everyone on board always takes precedence"
PortMiami based Norwegian Breakaway
Norwegian Breakaway was unable to return to Miami on Sunday, September 1st due to the port's closure. Given the uncertainty of when or if PortMiami would reopen, it was decided to sail the ship to New Orleans, Lousiana on Tuesday, September 3.
Norwegian Breakaway's September 1st voyage has since been canceled. All guests will receive a full refund.
Port Canaveral-based Norwegian Sun
With Port Canaveral now closed, Norwegian Sun's return on September 2nd was canceled. After having operated a revised itinerary, the ship will also divert to New Orleans, arriving on Tuesday, September 3rd.
Norwegian Sun's September 2nd cruise has been canceled.  All guests will receive a full refund.
At the present time, Norwegian Cruise Line is currently assisting all guests on both voyages in travel arrangements from New Orleans to their original homeports.
FULL HURRICANE DORIAN COVERAGE:
Carnival Cruise Line Itinerary Changes Ahead of Hurricane Dorian
Hurricane Dorian Begins to Impact Cruise Scheduling
Hurricane Dorian begins to Intensify as it passes by St Thomas
Tropical Storm Dorian Claims it's first Carnival Ship
$99 Cruise Offered as Hurricane Dorian Continues on its Path