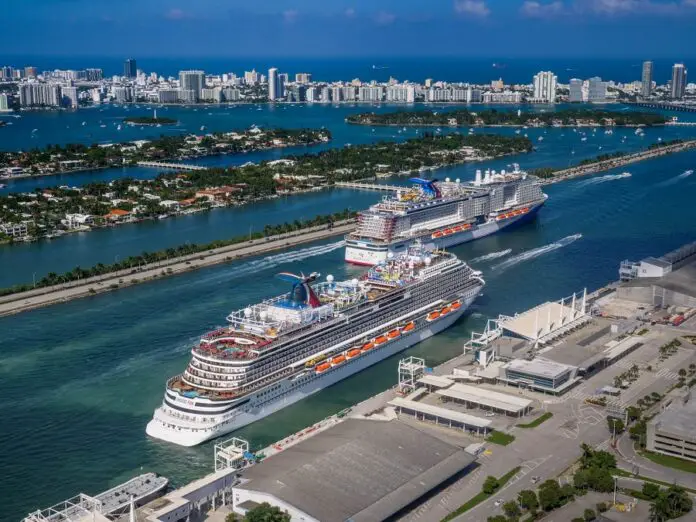 Set to debut in 2023 Carnival Cruise Line has just announced the name for its third Excel class joining sisters Mardi Gras and Celebration.
Carnival Jubilee was the name chosen in honour of her namesake ship which was launched back in 1986 and sailed under the Carnival Corporation brand until it was later sold off in 2012.
The announcement comes on the heels of the much-anticipated debut of Mardi Gras which was just recently named in a star-studded ceremony in Port Canaveral, Florida in October 2021.
Carnival Jubilee's naming announcement comes on the back of other great news for U.S. based cruisers with Carnival confirming that 22 o its ships will be back in guest operations by March 2022.
Nineteen ships had been confirmed by February, and now Carnival Sensation will restart from Mobile, Alabama. effective March. 5, Carnival Ecstasy will restart from Jacksonville, Florida. effective March. 7, and Carnival Paradise will restart from Tampa, Florida. effective March. 12.
Carnival became the first cruise line to offer year-round cruising from Galveston, Texas back in 2000, and with the news of the Jubilee being based there in 2023, it reaffirms the great partnership Carnival holds with the port of Galveston, Texas in all the years of sailing from the port city.
Jubilee when launched will be the third in the Excel class for Carnival, joining sisters Mardi Gras, sailing from Port Canaveral since earlier this year, and Carnival Celebration, which will be delivered in late 2022 and based in Miami.
The ships utilize a liquefied natural gas (LNG) technology platform. Carnival Corp. pioneered the introduction of LNG fuel in the passenger cruise sector as part of the company's ongoing commitment to sustainability and compliance throughout its global operations. Mardi Gras is currently the first LNG-powered cruise ship to operate in North America.
The announcement of the Jubilee's name was made at an annual cruiseWorld travel advisor conference in Miami Beach, Florida by Christine Duffy, president of Carnival Cruise Line. The more than 1,000 travel advisors in attendance cheered as the Carnival team revealed the news and passed out Texas-themed goodie bags and trinkets.
"We love Texas, and Texas loves Carnival. Galveston is one of our most popular homeports, and we draw guests to Texas from across the Midwest, southwest and western U.S"
Carnival Jubilee Specifications
Carnival Jubilee will arrive at 182,800 gross tons, with a capacity of more than 5,400 guests and a 1,700 crew. Her length comes in at 1,130 feet, with a beam of 138 feet and all up comprises of 19 desks.
Initially, she will be sailing seven-day western Caribbean itineraries and is set to include features from her sister ships that guests know and love including the BOLT roller coaster on the top deck, expanded dining options, new designs for suites and staterooms, and a stunning, three-deck atrium on the starboard side of the ship that overlooks the ocean and converts to an entertainment venue at night.
Read about the final days of the Carnival Jubilee in a previous article I wrote for this site back in 2017 and to date has had over 12,000 views.
At this stage, cruises are only going on sale in early 2022. for more details from Carnival cruise line, themselves sign up for their email updates at the following link