A sad day today, as I like cruise ships  is reporting that the MS Henna (ex. Carnival Jubilee, Ex Pacific Sun) will shortly be scrapped at a ship breakers in Alang, India.
(awaiting low tide to allow access to the ship)
The ship was originally built in 1986 by Kockums Varv in Malmö, Sweden, for Carnival Cruise Line as Jubilee ( later to be renamed Carnival Jubilee), along with near-sister ship Celebration. The other near-sister ship of the class, Holiday, was built earlier by Aalborg Værft in Aalborg, Denmark.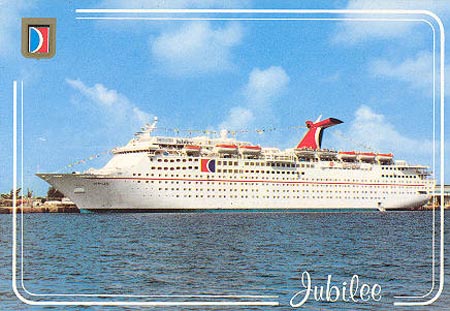 (one of the original postcards of the Jubilee in service for Carnival Cruise Line)
In 2004, the vessel was transferred to P&O Cruises Australia and renamed Pacific Sun. Pacific Sun arrived in Australia in November 9, 2004, and began year-round cruises from Sydney to the South Pacific
(the Pacific Sun seen here sailing out of Sydney in 2004)
On 13 September 2012, new owner HNA Cruises renamed the ship Henna; she made her maiden voyage under Chinese ownership on 26 January 2013 from Sanya to Vietnam.
(the MS Henna seen sailing the waters off Vietnam)
In November 2015, HNA shut down its cruise ship operation after three years of losing money due to newer vessels being deployed to the region. Since the Henna's last cruise with HNA, she is currently laid up and await her fate.
READ MORE: The next generation of Carnival ships is starting to take shape
So for some it has come as a shock that a once great cruise ship will be scrapped and broken down piece by piece. For me, it was the second ship i worked on after the Celebration.
I did the entire transit from Miami to Alaska on the ship. It was an entire contract working on the ship going from Miami to Miami, travelling to Alaska via the Panama Canal.
Most people will long remember the Jubilee as perhaps there first cruise and will forever leave a small memory in their heart. Gone, but not forgotten.