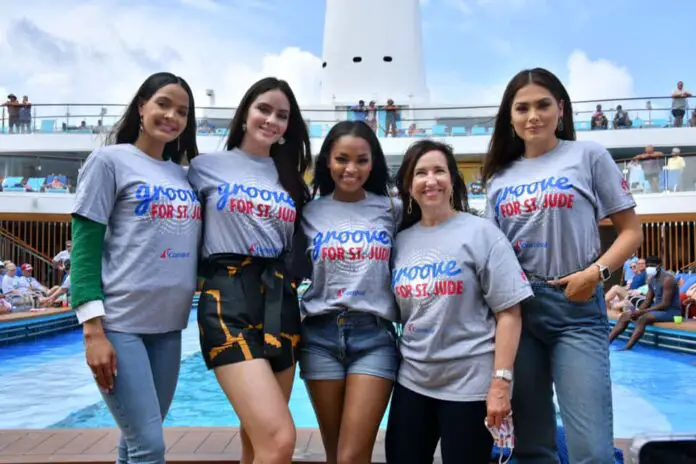 In case you might have been hiding under a rock for the last 3 months, you turned off your phone and didn't read any kind of social media posts. Carnival Cruise Line is currently hosting its largest cruise to date since the pandemic closed down cruising back in March 2020.
Carnival Mardi Gras this week held its much-anticipated naming ceremony in a star-studded event in Port Canaveral, Florida, followed by the current voyage it's hosting together with many of the naming ceremony participants.
The Mardi Gras' Godmother Kimberly Jiménez, along with Miss Universe Andrea Meza and other Miss Universe titleholders, joined Cruise Director Mike Pack and Carnival Cruise Line President Christine Duffy for the very popular Groove for St. Jude event.
Held on the seas day whilst the ship was sailing towards Nassau, Bahamas the event broke the ships previous money-raising effort and raised $21,600, Thanks to the generous donations of guests onboard.
"We are proud to support such a worthy cause and even more proud of guests for opening their hearts and raising close to $22,000 for St. Jude in one day"
said Christine Duffy, president of Carnival Cruise Line.
Mardi Gras was christened during a "Universe of Fun" celebration on October 23 in Port Canaveral, Florida and has been sailing this current celebratory inaugural cruise throughout the Caribbean this week.
Carnival Mardi Gras is the first cruise ship in the Americas to be powered by Liquified Natural Gas (LNG) and features BOLT, the first roller coaster at sea.
OTHER CARNIVAL NEWS:
Baltimore Welcomes Back Cruise Ships for the First Time in 19 Months
Mike Pack Finally Get's Onboard Carnival Mardi Gras
The ship is sailing year-round from Port Canaveral, offering seven-day itineraries to the eastern and western Caribbean.