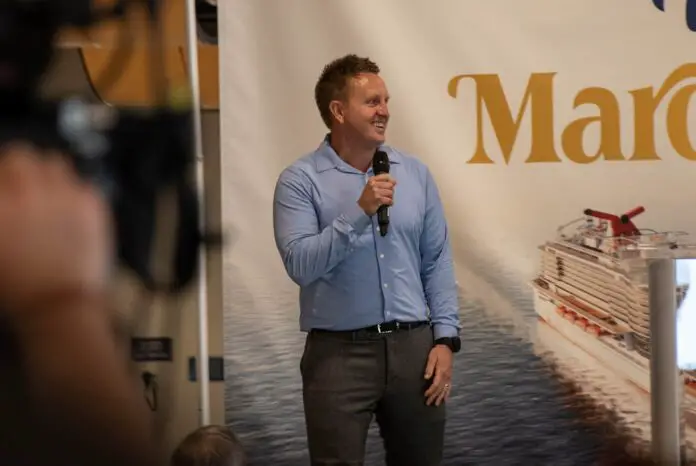 Carnival's esteemed Cruise Director Mike Pack has finally taken the reins of the newest cruise ship in the world, Carnival Cruise Lines first LNG ship Mardi Gras.
Originally slated to be the inaugural Cruise Director, the pause in operations of the entire cruise industry put on hold joining the Mardi Gras prior to its launch.
In the 18 months that the cruise industry was closed down, a lot of things changed both for the cruise line its self and personally for Mike and his family.
Owing to the birth of their child Mike and his wife, former cruise director Emma Nixon, took time away to enjoy the birth of their newborn baby. In the time since Mardi Gras was launched Chris "The Flying Scotsman" Williams had the privilege to serve as Mardi Gras' cruise director since the ship entered service on July 30.
Over the last few weeks, I've been training and getting familiar with all-things-Mardi Gras, and although I was excited before, it doesn't compare to how thrilled I am now to be back with our guests and our amazing crew,"
said Mike Pack.
"I want to thank Chris Williams for his amazing leadership thus far, and the incredible reception our guests have had for Mardi Gras and the ship's entertainment makes this moment that much more special. Let's get this party started!"
Mike is one of the more popular cruise directors in the industry, known for his energetic and infectious personality. Anyone who has sailed on a ship with Mike will tell you he makes you feel like family from the moment you step onboard.
Mike also has a longstanding commitment to Carnival's charitable partner St. Jude Children's Research Hospital and has been recognized for his continued support as a top fundraiser.
OTHER CARNIVAL NEWS:
Baltimore Welcomes Back Cruise Ships for the First Time in 19 Months
Mardi Gras is the first cruise ship in the Americas to be powered by eco-friendly Liquified Natural Gas (LNG) and features BOLT, the first roller coaster at sea