Following on from an Incident a few weeks ago. Cruises lines calling on the picturesque island of Cozumel, Mexico have decided to cancel shore excursions requiring the use of Ferries travelling to and from the mainland.
Cruise Lines have taken the unprecedented option of cancelling all ferry based shore excursions in Mexico. Based on information provided to them by the US State Department.
guests aboard Royal Caribbean ships received notices that their shore excursions scheduled to take place from Friday, March 2 onwards on the island of Cozumel were cancelled.
Royal Caribbean Cruise Line Cancels Excursions
Royal Caribbean informed guests of the new State Department warning, which discouraged travel on tourist ferries in Cozumel.
The letter adds, "The U.S. State Department remains confident of the Mexican government's efforts to ensure the safety of all tourists in the country.  However, in an abundance of caution, we are cancelling sponsored shore excursions that involve tourist ferries.  We also discourage guests from taking part in independent excursions that involve ferry travel."
"On March 1, undetonated explosive devices were found by Mexican law enforcement on a tourist ferry that operates between Cozumel-Playa del Carmen, Mexico," the alert on the U.S. Embassy & Consulates in Mexico's website states.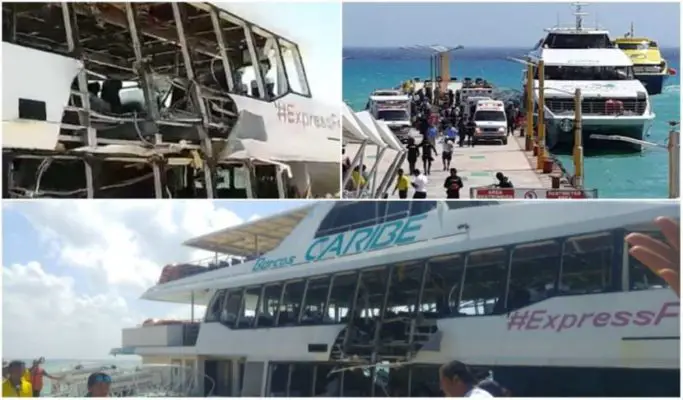 "On February 21, an explosive device detonated on a tourist ferry in Playa del Carmen resulting in injuries, including to U.S. citizens.
U.S. Government employees are prohibited from using all tourist ferries on this route until further notice. Mexican and U.S. law enforcement continues to investigate."
READ MORE: Ferry explosion at Mexican port injures at least 25, including 2 American
Carnival and Princess Follow suit with Cancellations
Similarly, Carnival — which has multiple ships scheduled to call at Cozumel throughout the March — cancelled all ship-sponsored tours that required ferries between the port and Playa del Carmen.
Princess Cruises also cancelled all Cozumel shore excursions involving ferries. "We would not take our guests and crew to a port — or operate a shore excursion — where we had any indication there may be an undue risk to safety and security," the line said in a statement.
Other cruise lines with planned stops in Cozumel have yet to make mention about the possibility of cancelling excursions or ferry based activities.
Ships with scheduled calls at Cozumel in March. They include Celebrity Cruises, MSC Cruises, Holland America Line, Disney Cruise Line, Silversea Cruises, Regent Seven Seas Cruises and Oceania Cruises.