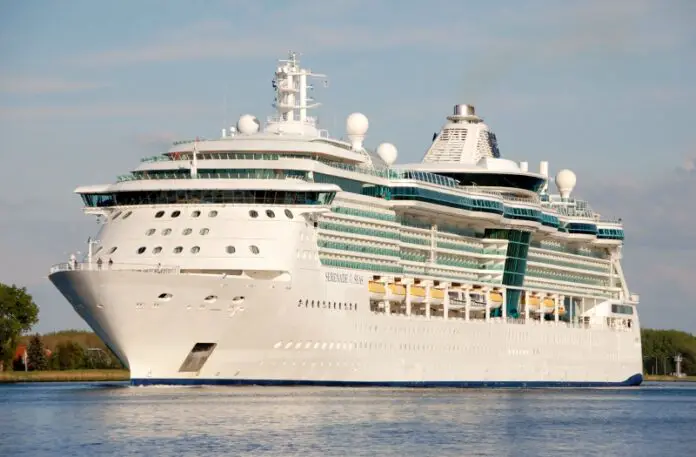 In what is being described as a Royal Caribbean world first. It was announced today that the cruise industry juggernaut will be offering a once in a lifetime Round the World cruise that will visit all seven of the world's continents.
Adventure-seeking travellers will have the opportunity to sail on one continuous voyage that will span a total of 274 days. Beginning on December 10th 2023 continuing through till September 10th 2024.
Royal Caribbean has announced that the 2476 guest, Serenade of the Seas will be the chosen ship to make this amazing cruise the most memorable world cruise yet.
Making up the cruise itinerary the Serenade will visit all seven continents, more than 150 destinations in 65 countries and 11 great wonders of the world.
Bookings for the full Ultimate World Cruise can be made by telephone starting today, with an exclusive one-week window through October 26 for Royal Caribbean's Crown & Anchor Society Diamond status members and above.
A mind-blowing 57 new destinations not sailed by Royal Caribean before will form the backbone of the cruise. Highlighted stops include Casablanca, Morocco; Qaqortoq, Greenland; and Shimizu, Japan – the gateway to Mount Fuji.
Guests will be able to sail to places far and wide including some of the worlds breathtaking wonders including Peru's Machu Picchu to the Taj Mahal in India. All included in the one sailing leaving from Miami, Florida.
"This is the world cruise of world cruises"
said Michael Bayley, president and CEO o Royal Caribbean. "Now more than ever, people have resolved to travel the world and make up for lost time. Royal Caribbean is making that a reality with the ultimate vacation that welcomes those seeking adventure."
Guests ready to traverse the world can book the full Ultimate World Cruise starting today or choose from any of the four expeditions that will offer a wide range of destinations – the Americas, Asia-Pacific, the Mediterranean and Northern Europe
As is traditional with World cruises, you have multiple options on how you book the voyage. The complete voyage of 274 days all in one. Or you can choose to book one of the 4 segmented cruises including:
Round the Horn: Americas and Antarctica Expedition
Dec. 10, 2023 – Feb. 11, 2024 – Three continents, 36 destinations, four wonders
The once-in-a-lifetime journey begins in Miami, the cruise capital of the world, and sets course for postcard-perfect Caribbean destinations – like the ABC islands (Aruba, Bonaire and Curacao)

Wonders of Asia and the Pacific Expedition
Feb. 11 – May 9, 2024 – Three continents, 40 destinations, three wonders
Guests will venture miles from the ordinary in Oceania, Asia and beyond on the cruise's next showstopping leg.

Middle East Treasures and Marvels of the Med Expedition
May 9 – July 10, 2024 – Three continents, 44 destinations, four wonders
This expedition begins in glamorous Dubai, United Arab Emirates, and brings many of history's greatest mysteries, myths and legends to life.

Capitals of Culture
July 10 – Sept. 10, 2024 – Three continents, 40 destinations
The final leg of the Ultimate World Cruise is an immersive, cultural experience that begins in the Mediterranean and ultimatly ending the voyage in Miami, Florida.
Whilst a world cruise might not be for everyone, simply booking one segment of the voyage will give you a taste of what true ocean-going cruises are like. Getting the time off from work, or if you are in your twilight years and are already on that endless vacation, this might just be the cruise for you.
READ MORE ROYAL CARIBBEAN NEWS:
Royal Caribbean Continues its Return with a Third Ship In Europe
Worlds Largest Ship to Debut in the Cruise Capital of the World
From start to finish, guests who book the full Ultimate World Cruise can expect a seamless, world-class travel experience that includes business class airfare, premium transportation as well as an evening of festivities and accommodations at a five-star hotel before setting sail.
For Crown & Anchor Society Platinum status members and above will receive a bonus Seven New World Wonders shore excursion package in addition to other perks, including a Deluxe Beverage package, VOOM Wi-Fi, laundry service and more.