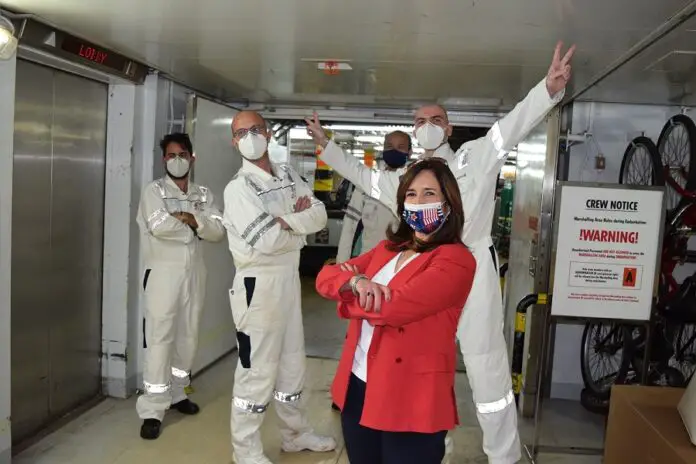 For the first time since the cruise industry's pause in guest operations in March 2020, Carnival President Christine Duffy today went on board one of the company's ships, Carnival Sunshine.
Carnival Sunshine, which was docked at PortMiami's Terminal E, provided Christine with a warm welcome as she met with senior officers, toured the ship with Captain Leonardo Contarino, Chief Engineer Dinko Biskupovic and Hotel Director Steve Scandale.
During her walk around, Christine engaged with crew members who are on board providing essential services to maintain the vessel and preparing for the company's eventual return to service.
"The crew truly enjoyed seeing Christine in person – it was a most welcome moment for all.  More than anything, we can't wait to begin service again to provide our guests with wonderful vacation memories," said Captain Contarino.
At present Carnival Cruise Line is still in the middle of its pause in cruise operations, as of April this year Carnival announced It has suspended its US departures thought until June 30, 2021
Read More From I Like Cruise Ships
Everyone cruising needs a little inspiration of what to pack and what you might not have thought to pack for a cruise. This Must-Have list
Read More »
So, Your all packed and ready to go. But have you thought of everything. Weather it be an item to bring with you, or perhaps
Read More »