The 3,000-passenger Carnival Splendor will be added to the Carnival fleet in Australia next year.
The Splendor will be a big addition to the enormously popular Carnival fleet, which is a favourite among young families with children when she arrive in December 2019.
It is believed the 10-year-old vessel, which was last refurbished two years ago,  will be dry-docked before her first season down under for "Aussification" and more Fun Ship elements to be added including the Green Thunder slide as well as special coffee machines for Aussie coffee.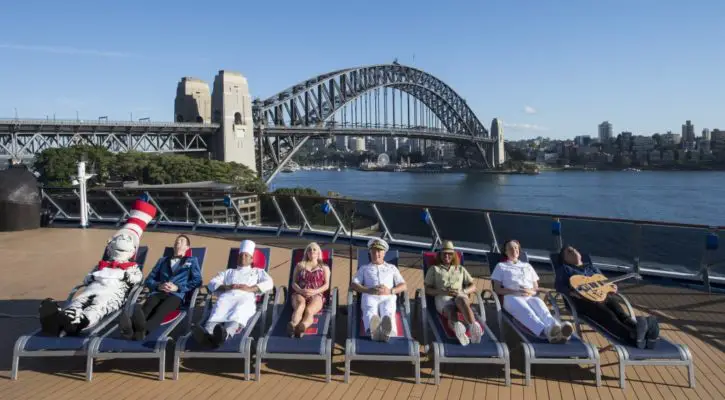 The announcement was made aboard the Carnival Spirit this morning in Sydney Harbour. line president Christine Duffy and Vice Presidentn Jennifer Vandekreeke, who has done most to build the line's presence in Australia to one of the country's favourites.
"We just celebrated our five-year anniversary in Australia, and we know our Australian cruise market are fun, high-spirit and family friendly.
We looked around our fleet because we are increasing our capacity, and we thought we could get a larger ship for the Australian market, thus the decision to deploy the Carnival Splendour all year around here," said Ms Duffy.
They made the announcement along with staff on the back deck of the Spirit.
Carnival splendor entered service on 2 July 2008, and was then the largest ship in Carnival Cruise Line.
The Carnival Splendor is widely known for the November 2010 incident in which a fire started in the engine room, shutting down all electrical power to the ship, according to reports.
Two years ago, it was rumored that the ship would be transferred to the P&O Cruises Australia fleet in 2019.
FEATURES
The 3,006-passenger vessel has a 21,000 sq ft state-of-the-art, indoor Cloud 9 spa on two forward decks – the largest spa on any Carnival ship. It includes an elaborate thermal suite, a variety of health and beauty treatment rooms, and Carnival's first Thalassotherapy pool.
There is an adults only retreat named "serenity deck, which caters to adults over the age of 21.
The 5,500 sq ft children's playroom located midship was at one stage considered the largest in the Carnival fleet. Above the facility is a dedicated water play area, a first for Carnival Cruise Lines.
A sports deck featuring arena-style seating for games and other events as at the aft of the vessel.
A reservations-only supper club is located atop the poolside Lido restaurant, providing diners with magnificent ocean views. The mid-ship pool, one of four on board, is enclosed by two full decks of glass walls.
The area is covered with a two-deck-high retractable dome that can be closed during inclement weather. A large balcony encircles the upper deck of the pool area. There are flat screen televisions in every stateroom and award-winning shows are offered.
Also Read: 5 ways to save money on your next cruise
More than 800,000 Australians have cruised with Carnival since the company launched its Australia program five years ago with year-round sailings of Carnival Spirit.  Carnival Legend also operates seasonal departures from Sydney.  The arrival of Carnival Splendor to Sydney represents a 66% capacity increase for Carnival Cruise Line in Australia.
Carnival Splendor will undergo a significant bow-to-stern upgrade that will add features catering to Australian guests, including a variety of new dining experiences tailored to local tastes and a brand-new waterpark.
The 113,300-ton vessel will make her maiden voyage from Sydney in December 2019 following a repositioning cruise from Singapore following her refit.
Carnival Splendor currently operates seven-day Mexican Riviera and longer length voyages to Alaska and Hawaii from Long Beach, Calif.  Another Carnival Cruise Line ship will be replacing Carnival Splendor on its Long Beach cruise program and will be announced in the near future.