Located within a new dedicated family zone on Deck 2, the Family Harbor accommodations offer an array of deluxe ocean-view, balcony and interior staterooms that accommodate up to five family members.
Parents and kids will have even more room to relax at the exclusive Family Harbor Lounge, a secluded space designed as the ultimate family hang out with large-screen TVs, games and complimentary breakfast and snacks.
NOT CAUGHT UP ON THE LATEST HORIZON STUFF YET?: Read on below in some of our featured articles. I am sure you will find some interesting photos.
Carnival Horizon – So So Close to Completion
Carnival Horizon – More of the VERY Latest Photos
Carnival Horizon – Who's ready for some more Behind the Scenes Pictures?

Guests in Family Harbor Staterooms are entitled to:
24/7 Family Harbor Lounge Access
Kids eat free in for-pay dining restaurants (excluding Chef's Table) – Children must dine with adult and order off Kids' menu.
One free attendance to Night Owls (up to 3 hours of free babysitting)
A special family concierge desk will be available here to assist families in making this their best vacation ever. Carnival Horizon will feature a new cabin category onboard: An aft-view extended balcony in the special Family Harbor section of the vessel.
The new Family Harbor cabins will join 86 existing ones in showcasing exclusive access to the nearby Family Harbor Lounge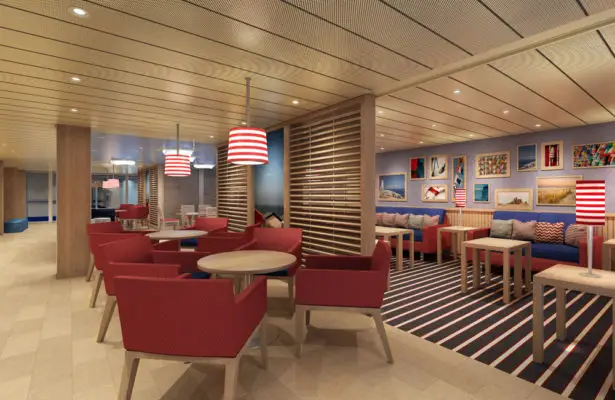 FAMILY HARBOR LOUNGE FEATURES
Family Harbor Concierge
A Concierge available to help with any family needs (3:00pm-5:00pm, daily)
Book shore excursions
Make dining or spa reservations
Make requests for extra towels or other housekeeping needs
Check out video game consoles, games and movies
Register children for youth programs or sign up for Night Owls
Entertainment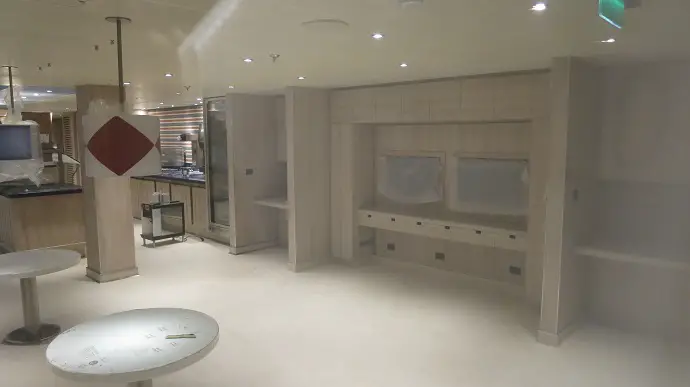 Large screen TVs
Programmed family movies with popcorn
Video game consoles, games and movies available to check out
Hasbro board games readily available
Breakfast and Snacks
Breakfast served Self-Service at stations open on port days, 6:30am-9:30am and sea days, 7:30am-10:30am, serving: pastries, yogurt, deli meats, cereal, cut fruit, coffee, tea, water and orange juice.
Self-serve snack stations open daily, 3:00pm-5:00pm, serving: sandwiches, pastries and cookies.
Self-serve cookies and milk at family bedtime, 9:00pm-11:00pm each evening.
Swirls soft serve ice cream and frozen yogurt machines, 24/7
Now, As we have done in the last few Carnival Horizon posts, here is a little Secret Squirrel again with a photo that will feature in an upcoming post. Enjoy!