By far one of the most important items you're going to need for your cruise is…

A Power adaptor
It the last few years the amount of gadgets and tech items where carrying with us is getting out of hand. The moment you step in your cabin its almost certainly going to be the first thing you look for. And that is, a socket to charge up your phone, tablet, laptop or even a travel torch.
In this article we look over 5 different type that will come in very handy once your ready to charge up. Now if your cruises on some of the newer ships, their even helping you out a little by now including a USB outlet on the desk. But even by adding that extra outlet, your still going to need more.
First things first lets see what the exact policy is according to the Carnival web site. The link to the specific page can be found HERE.
the key sentence here is this:
Power strips, multi plug box outlets/adaptors and extension cords (without surge protectors) are allowed on board when used with proper caution
So having understood that. Here are some of the different options you have where the items don't have a Surge protector included.
With 6 outlets this should be more than sufficient for most cruisers. The 12 foot cord I think is the real feature of this item. Also for people who might use a CPAP machine and need to have it close to your bed. this is definitely a must have as the longer cord can run across the room. The link to this can be found HERE.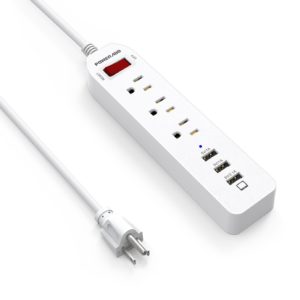 This particular power strip is suited to someone wanting both regular 110 power and the option to plug in USB ready items as well. The link to this item can be found HERE.
This perfect cord for anyone needing extra length. This 10 foot cable is supplied as a twin pack should you need more outlets in different parts of your cabin or stateroom. The link to this item can be found HERE.
Something a little more traditional. This can be plugged directly into the socket in the cabin, instantly creating more power outlets. The link to this item can be found HERE.
A great looking multi plug. offering 2 power outlets and 3 USB options. Giving great versatility. The link to this item can be found HERE. 
NEED MORE PACKING IDEAS: 7 Things you might have never thought to bring on your Cruise
Ok…..Late breaking news, well sort of. We have managed to find another one I think it's defiantly worth a mention in this post.
Safemore Smart 8-Outlet with 4-USB Output Power Strip
This one comes in different colors as well. So you can even start a new trend off by getting a non traditional color. The link for the black and white one can be found HERE. For the more fashion conscious you can even find it in blue. Check it out HERE
Last But Not Least
Lets see if your still reading this shall we. Perhaps you didn't find anything you liked in this list, or you didn't like the prices. Then i have one last alternative for you. For as little as $5.00 you can get this little almighty plug.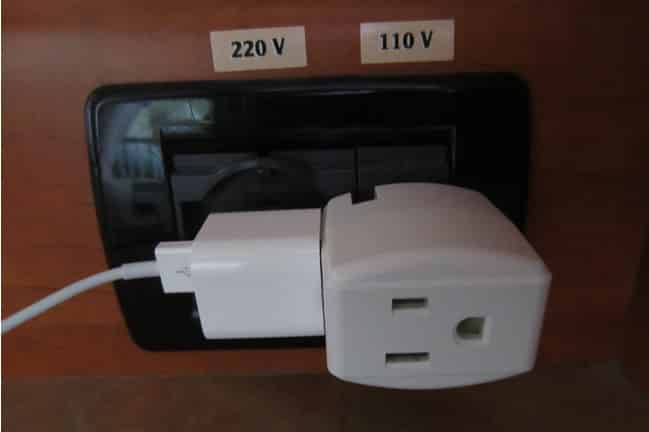 You can find the General Electric Plug shown above on Amazon. You can also find a full page of different types Power Strips as well.