Whether you love cruising, or just love the thought of going on one. Today we bring to you  a list of some of the best (or perhaps worst) Cruise Ship Movies that feature ships in some form or another. From Comedies to full on drama.
We have something here for everyone. Some are set on ships, whilst others features ships in them. But one things for sure, after watching one or two your going to want take another cruise. or at worst make you dream of one. Enjoy the list.
http://An%20Affair%20To%20Remember%20(1957)
Storyline
Nickie Ferrante's return to New York to marry a rich heiress is well publicized as are his many antics and affairs. He meets a nightclub singer Terry McKay who is also on her way home to her longtime boyfriend.
She sees him as just another playboy and he sees her as stand-offish but over several days they soon find  they've fallen in love. Nickie has never really worked in his life so they agree that they will meet again in six months time atop the Empire State building.
This will give them time to deal with their current relationships and for Nickie to see if he can actually earn a living. He returns to painting and is reasonably successful. On the agreed date, Nickie is waiting patiently for Terry who is racing to join him. Fate intervenes however resulting in misunderstanding and heartbreak and only fate can save their relationship.


CHECK OUT " An Affair To Remember " on AMAZON

Storyline
When two pre-teens named Hallie and Annie meet through their summer camp, their two lives are rattled when they realize that they are identical twins.
With parents, British mother aka famous dress designer Elizabeth and American father, a wine maker named Nick, living in two different sides of the universe, the girls decide to make an identity swap in hopes of spending time with their other parent.
The girls later choose to aware their guardians of the swap while at a hotel in NYC, which late reunites the divorced pair and sends them back into remarriage with each other.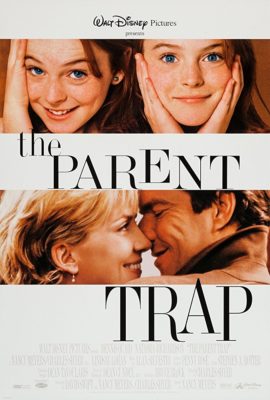 CHECK OUT " The Parent Trap " on AMAZON

https://www.youtube.com/watch?v=MSONGEe2Fb0
Playing around while aboard a cruise ship, the Chipmunks and Chipettes accidentally go overboard and end up marooned in a tropical paradise.
They discover their new turf is not as deserted as it seems.The film grossed a total of $133,110,742 in North America, and another $209,584,693 overseas, for a total worldwide gross of $342,695,435. 
The film featured one of Carnival's newest and biggest cruise ships, Carnival Dream. The external shots and interior stateroom suite were filmed during a 7-day Caribbean cruise.


CHECK OUT " Alvin & The Chipmonks: Chipwrecked " on AMAZON

 
Jack And Jill (2011)
Storyline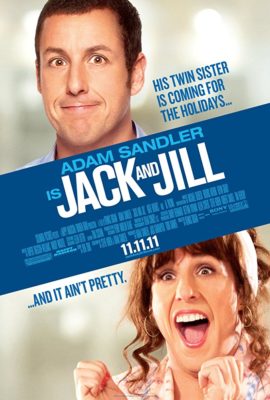 Jack Sadelstein is a successful advertising executive in Los Angeles witha beautiful wife and kids, who dreads one event each year: the Thanksgiving visit of his identical twin sister Jill. Jill's neediness and passive-aggressiveness is maddening to Jack, turning his normally tranquil life upside down. The film's opening day in the United States 3,438 theatres grossed $25,003,575. for a total worldwide gross of $149,673,788 against its $79 million budget.
The Poseidon Adventure (1972)
Storyline
A passenger ship, on her way to the scrap yard is pushed to her limits by the new owners to save on the dismantling fees. A tidal wave hits her, flipping her over so that all the internal rooms are upside down. A priest takes a mixed band of survivors on a journey through the bowels of the ship in an attempt to survive. It is in the vein of other all-star disaster films of the early-mid 1970s such as Airport (1970), Earthquake (1974), and The Towering Inferno (1974). By the end of 1974, it was regarded as a widely successful film. The film won two Academy Awards. When the film made its network television premiere on ABC on October 27, 1974, it earned a 39.0 household share, making it the sixth highest film to ever air on network television.
Out To Sea (1997)
Storyline
Care-free Charlie cons his widower brother-in-law Herb into an expenses-paid luxury cruise in search of rich, lonely ladies. The catch is that they are required to be dance hosts! With a tyrannical cruise director, and the luscious Liz and lovely Vivian, our heroes have lots of mis-adventures before they finally return to port.
The Last Voyage (1960)
Storyline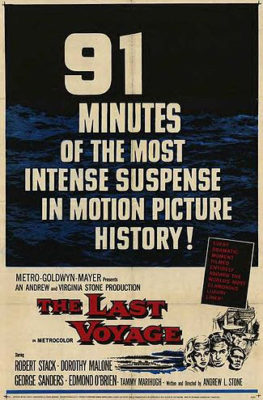 Cliff Henderson and his family are traveling aboard the SS Claridon en route to Japan. The Claridon is an old ship, on its last voyage before heading to the scrap heap. An explosion in the engine room weakens the hull and the ship is now taking on more water that the bilge pumps can deal with. The Captain seems to have difficulty accepting that his ship will sink. Henderson's wife Laurie is severely injured and trapped under a fallen beam. While the men in the engine room work frantically to shore up the hull, Henderson tries to free his wife from the wreckage with the help of one of the crew, Hank Lawson. The film centers on the sinking of an aged ocean liner in the Pacific Ocean following an explosion in the boiler room. There are some plot similarities to the disaster involving the Italian liner SS Andrea Doria,
Ship of Fools (1965)
Storyline
1933: An ocean liner belonging to a second-rate German company is making a twenty-six day voyage from Veracruz, Mexico to Bremerhaven, Germany. Along the way it will stop in Cuba to pick up a large group of Spanish farm laborers who are being shipped home and who will be housed like cattle in steerage. There it will also pick up La Condesa, a Spanish countess. It will stop in Tenerife, where the farm workers will disembark and where La Condesa will be sent to a German-run prison for her "traitorous" activities in Cuba. This voyage will be the last of three for the ship's doctor, Willi Schumann, who has a serious heart ailment and who thought he could find some meaning to his life through this job. Willi and La Condesa fall in love, with the ship's Captain Thiele, who is Willi's closest friend on board, believing the drug-addicted La Condesa is only using him to get her fixes. Willi and La Condesa have to figure out if there is a future for them after the voyage.
Table For Five (1983)
Storyline
J. P. Tannen takes his three children for a vacation cruise. They usually live with their mother and step-father, but now J. P. feels capable of taking them. Emotional tragedy strikes, causing battles parent against parent, and parent against child. J. P. tries to show his children that he loves them. The film uses location shooting extensively. For the cruise scenes, producers chose the MS Vistafjord (now with the Saga Cruise Line), which at the time was considered the biggest cruise ship in the Western Hemisphere. Many scenes were shot at sea during an actual voyage. Others were shot on location in Rome, Athens, and at the Giza pyramids. Kevin Costner has a small role as a passenger on the ship, a newlywed.
Speed 2: Cruise Control (1997)
Storyline
Annie Porter, the woman who was held on a bus with a bomb attached to it that will go off if it slows down. She dated the cop who saved her but broke up with him because he was constantly putting his life in danger. She would then date a guy named Alex who is also a cop but told her that he does a mundane assignment. But she eventually learns that he works for the same unit that the other guy worked for and is also addicted to danger. She wants to break up with but he surprises her with a cruise. She agrees to go. And he's planning to propose to her. But when he notices another passenger act peculiar, he can't help but try to find out what's up with him. He's Geiger, a computer man who designed the ship's systems, who was fired. He then takes over the ship's systems and sets it on a course that will send it into a tanker. Alex tries to stop him.
Titanic (1997)
Storyline
84 years later, a 100 year-old woman named Rose DeWitt Bukater tells the story to her granddaughter Lizzy Calvert, Brock Lovett, Lewis Bodine, Bobby Buell and Anatoly Mikailavich on the Keldysh about her life set in April 10th 1912, on a ship called Titanic when young Rose boards the departing ship with the upper-class passengers and her mother, Ruth DeWitt Bukater, and her fiancé, Caledon Hockley. Meanwhile, a drifter and artist named Jack Dawson and his best friend Fabrizio De Rossi win third-class tickets to the ship in a game. And she explains the whole story from departure until the death of Titanic on its first and last voyage April 15th, 1912 at 2:20 in the morning. Including revenue from the 2012 & 2017 releases, Titanic earned $659.4 million in North America and $1.528 billion in other countries, for a worldwide total of $2.187 billion.
Boat Trip (2003)
Storyline
Jerry and Nick are two best buddies whose love lives have hit rock bottom, Jerry's especially, having just vomited all over his fiancée on a hot air balloon trip prior to proposing to her. To escape their troubles and find women, they book a trip on board a cruise-liner, unaware the travel agent has just played a horrid trick on them in retaliation for Nick offending his secret gay lover. And that's the trick; it's a gay cruise-liner for gay men to meet and mingle. Slowly but surely, the two main characters begin to realize this and in turn get into a lot of humorous predicaments. When the film first opened it grossed $3,815,075 in 1715 theatres across the United States. In total, it had a worldwide gross of $15,020,293. Not bad for a film that didn't get the best reviews upon its initial release.
Romance on the High Seas (1948)
Storyline
Socialite Elvira Kent suspects her husband of fooling around with other women. When he announces he can't join her on their scheduled ocean voyage, she hires a nightclub singer, Georgia Garrett, to pose as her on the cruise. Elvira stays at a hotel near home so she can spy on her husband. She's unaware, however, that her husband has hired a detective, Peter Virgil, to keep an eye on her at sea. Of course, Peter doesn't realize that Georgia is not Mrs. Kent. Romance on the High Seas went on to beknown in the United Kingdom as It's Magic. The exotic places where the cruise ship stops are a fun escape from the norm, and are populated with stereotypes that reflect the average unseasoned traveler's attitudes towards tropical locations at the time of filming.
Deep Rising (1998)
Storyline
When a band of ruthless hijackers invade the world's most luxurious cruise ship, they're shocked to discover the passengers have mysteriously vanished! But that doesn't mean they are alone! Something terrifying is lurking just out of sight: a deadly force from the unexplored depths of the ocean that begins to snatch the horrified intruders one by one!