In light of all all the shutdowns and lockdowns happening around the world right now. Some of the major cruise lines have set dates they expect to begin sailing again.
I Like Cruise ships has go out and search each of the cruises lines for you to piece together a list of when each cruise line start up again. Of course as this is a very fluid situation, dates and times are changing weekly and in some cases daily.
Knowing when your going to be able to sail on your next cruise adventure if some what of an unknown, but with dates an times being releases by each cruise line it gives hope to us all knowing we can start to plan our next cruise vacation.
Listed below are the current up to date details provided to us by each cruise individually as of going to press today 26th April 2020.

IMPORTANT COVID19 UPDATES:
Centers for Disease Control and Prevention Latest
AIDA Cruises – Update: 04/24/2020, 10:25 AM
"The global spread of coronavirus is currently presenting unprecedented challenges for people, economies, and businesses. Global travel has come to a standstill, and the situation is not expected to normalize until the end of May 2020" All trips up to and including 31 May 2020 cannot take place as planned.
American Cruise Line – Updated: March 24, 2020
American Cruise Line at present has voluntary decision to suspend cruise operations through April 30th 2020. Guests booked on any cruises that have been suspended by American will have the option to receive a full money-back refund or Cruise Vouchers equal to 125% of all amounts paid for their Cruise Package. American has been contacting guests and travel advisors directly about their options for cruises suspended due to COVID-19.
Azamara Cruises – Updated: March 24, 2020
"While this global situation is something that none of us have ever experienced, we continue to evaluate how it impacts our upcoming sailings" All sailings departing on and before June 11, 2020 will be cancelled, and we plan to resume operation on June 12, 2020.
Carnival Cruise Line – Updated: April 13th, 2020
As the COVID-19 situation continues to evolve, we regret to inform our guests that Carnival Cruise Line is having to cancel the following sailings:

All ships sailing though and including June 26, 2020
All San Francisco sailings through 2020
All Carnival Sunrise sailings through and including October 19, 2020
All Carnival Legend sailings through and including October 30, 2020
All Carnival Radiance sailings through and including November 1, 2020
Celebrity Cruises – Updated: Thursday, April 16, 2020
"We are facing truly unprecedented times as the coronavirus pandemic continues to have unexpected consequences on our communities and businesses" Celebrity Cruises will therefore be extending the suspension of global operations for all sailings departing on-or-before June 11th, 2020. 
Celestyal Cruises – Updated: 24th April 2020
"we understand the inconvenience this will cause and apologize to our valued guests. However, as I'm sure they will understand, we have taken these necessary steps for the well-being of both our guests and our crew" Celestyal Cruises has extended the suspension of its sailings until June 29, 2020. Currently, cruises will resume on this date with the four-night "Iconic Aegean" sailing round trip from Athens.
Compagnie du Ponant – Updated: Friday 17 April 2020
"Dear customers, As you know, the current pandemic situation has led us to temporarily suspend the operation of our entire fleet until 15 May 2020 at the earliest. It is highly regrettable and disappointing to have to cancel or postpone cruises. Our vocation as sailors is to take you travelling the seas of the world, and we know your cruise is an important event that you begin looking forward to with pleasure and anticipation long in advance"
Costa Cruises – Updated: April 9, 2020
Due to the protracted emergency situation linked to the global Covid-19 pandemic and with the further introduction of containment measures (such as closing ports and restrictions on the movement of people who do not actually allow to operate), Costa Cruises has decided to extend the voluntary suspension of its cruises until May 31 2020.
Crystal Cruises – Updated: 22nd April 2020.
Crystal continues to closely monitor the latest developments as the unprecedented situation concerning COVID-19 is rapidly evolving. Due to temporary closures of European ports, it is with regret that we have made the decision to:

Cancel all Crystal River Cruises sailings thru June 2020
Cancel all Crystal Yacht Cruises sailings thru June 2020
Cunard Line – Updated: 24th April 2020
Cunard has extended its pause in operations up to and including 31 July 2020 as a result of the continued impact of Covid-19 and following global guidelines. In addition, all 2020 Alaska sailings on board Queen Elizabeth, including voyages up until 8 September 2020, are now unfortunately cancelled. 
Disney Cruise Line – Updated: April 15, 2020 – 3:00 PM
Disney Cruise Has cancelled all Departures Through May 17, Disney Magic Sailings through June 7, and Vancouver Sailings Until the End of June. In line with this direction, and with the well-being of our Guests and team members our top priority, Disney Cruise Line has suspended:
All new departures of the Disney Dream and Disney Fantasy through Sunday, May 17, 2020.
All Disney Magic sailings through Sunday, June 7, 2020.
All departures on the Disney Wonder through June, given that neither the Port of Vancouver nor an alternate homeport is available.
Fred. Olsen Cruise Lines – Updated: Apr 22, 2020 10:41 BST
Fred. Olsen Cruise Lines has confirmed that it will be extending its pause in sailings beyond 23rd May 2020 in the wake of the ongoing coronavirus pandemic. Peter Deer, Managing Director at Fred. Olsen Cruise Lines, said: "At this stage I am not able to confirm a date when we can expect to resume normal operations, as what I don't want to do is set an expectation and not be able to deliver what we promise"
Holland America Line – Updated: 30th March 2020
Due to the continued port closures and travel restrictions surrounding global health concerns, Holland America Line has made the decision to extend its pause of global cruise operations for an additional 30 days, cancelling sailings scheduled to depart through May 14, 2020.
MSC Cruises – Updated 24th April 2020
MSC Cruises regrets to inform you that due to the evolving COVID-19 coronavirus crisis, we have made the difficult decision to cancel or change select cruises. This decision wasn't taken lightly; but the health and safety of our guests and crew members is our top priority. All cruises have been canceled from March 14 – May 29
Norwegian Cruise Line – Updated: April 24, 2020
'The safety, security and well-being of our guests, crew and communities we visit is our number one priority. We continue to closely monitor the COVID-19 coronavirus situation and the global health environment"
With COVID-19 continuing to impact communities and ports around the globe, we have extended our voluntary temporary suspension of voyages. Our suspension that was for voyages embarking March 13 to May 14 has been extended to now include all voyages embarking through June 30, 2020.
P&O Cruises Australia – Updated: 31t March 2020
On Saturday, P&O Cruises Australia has extended its pause in cruise operations. an update on P&O's operations from our President Sture Myrmell: "We must let you know that the Australian Government has extended its ban on cruise operations until June 15, 2020" 
P&O Cruises – Updated: 24th April 2020
With the current lockdown in place and government guidelines around the world advising against travel it has been necessary to extend the pause in our operations. P&O Cruises is extending its pause in operations up to and including July 31, 2020 as a result of the continued impact of COVID-19.
Princess Cruises – Updated: April 14th 2020
In continued response to the impact of the COVID-19 global outbreak and the recent order from the United States Centers for Disease Control (CDC), Princess Cruises is canceling all voyages through June 30, 2020.
Royal Caribbean International – Updated: April 16, 2020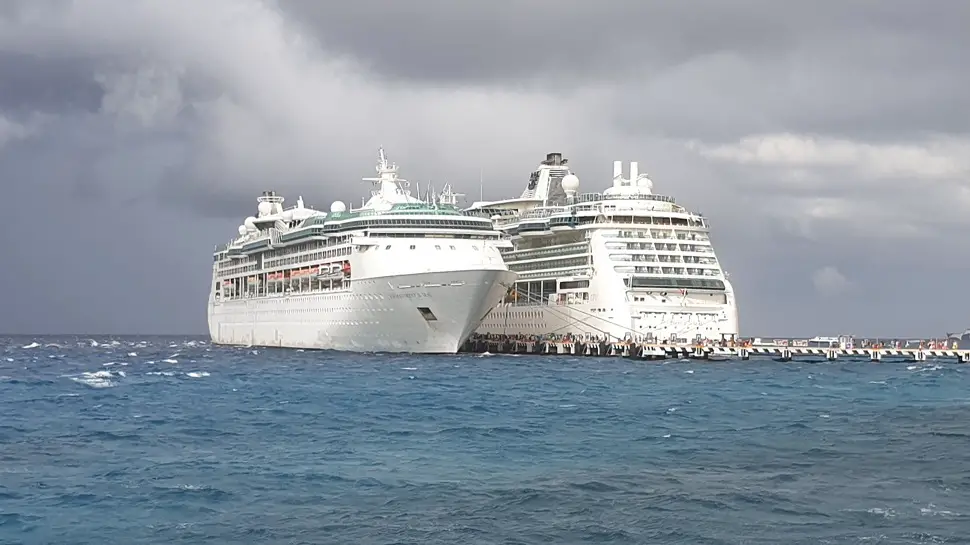 Covid19 Cruising Update Final Thoughts
Given global public health circumstances, Royal Caribbean Cruises Ltd. has decided to extend the suspension of sailings of our global fleet through June 11, 2020.We are working with our guests to address this disruption to their vacations, and we are genuinely sorry for their inconvenience. We expect to return to service on June 12.
I LIKE CRUISE SHIPS TRAVEL AND CRUISE PACKING IDEAS
Travel Adapters for Cruises: A Must-Have for Cabin Comfort
The 5 power adaptors you can bring on your next Carnival Cruise
8 of The Best Travel Mugs for Cruising
Of course this is only a snippet of the many hundreds of cruise operators around the world right now. If you do have a cruise book definitely check with your Travel agent you book through or directly with your cruise line.
As always I Like Cruise Ships certainly wants to see cruising happen again as fast at possible. We also understand the complexities involved in getting back to the level we were at only a few short months ago.