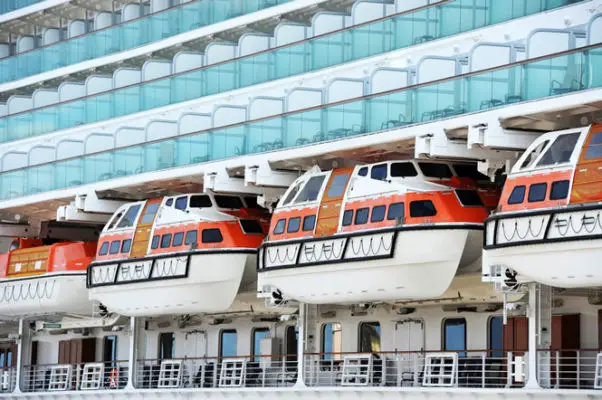 Mystery surrounds the death of a woman onboard the
Royal Princess. As a Murder Probe starts
A fatal event has occurred on Royal Princess which is operated by Princess Cruises. A cruise ship passenger has fallen from one of the upper decks and hit a lifeboat below.
According to a passenger who is on the ship during this voyage who contacted the Cruise Law News site, an unnamed cruise guest died after falling or from being pushed from one of the upper decks.
One of the passengers told the site the following:
"A women on royal princess, princess cruise line was pushed or fell from the lido 15th or 16th deck onto the top of lifeboat #2 at 4 am in the morning. She died instantly. Once the ship arrived into Aruba, authorities boarded the ship. The outcome of the investigation is unknown. Passengers said the scene was gruesome."
The female passenger may have fallen or pushed from one of the open areas on the lido deck. She fell onto the top of lifeboat number two at around 4:00 AM and a public announcement were made not long after which was even heard in all guest cabins.
Possible murder probe gets underway
Local Police in Aruba are currently investigating a fatal incident that occurred onboard the Royal Princess while the cruise ship was sailing from Willemstad, Aruba to Oranjestad, Curacao Yesterday.
MORE CRUISE NEWS:
Glamping At Sea A World First For Celebrity Cruises: Celebrity Flora

Local Media in Aruba are reporting that a "muscular" man was struggling with the woman and suddenly began choking her. After that, he reportedly pushed her over the railing. Ships Security provided the police with the video footage. There are indications that video cameras have captured the moment in which the man had pushed the woman over the railing. Aruba Police have since confirmed the tragic event and will perform an autopsy, to determine the cause of death.
Princess Cruises Releases Statement
Princess Cruises have since confirmed "that a 52-year-old American female guest passed away early this morning aboard Royal Princess as the ship was en route to Aruba. It was reported to the local authorities who met and boarded the ship upon arrival. The cause of death is not yet known at this time."
The cruise line also stated, "We are deeply saddened by this incident and offer our sincere condolences to the family and those affected."