A group of 4 men working for the salvage firm jailed for stealing a Costa Concordia backpack from the ill fated shipwreck
February 19 2018 8:47 AM
Its being reported that 4 men have been jailed by an Italy Court for stealing various items including a backpack from the wreck of the Cost Concordia cruise ship.
Sean Ruddy (41) received a six month prison sentence and a €200 Euro fine in an Italian court on Saturday after he was caught souvenir hunting from the vessel in November 2013.
32 people tragically died when the Costa Concordia struck a rock off Isola del Giglio, Tuscany on January 13 2012.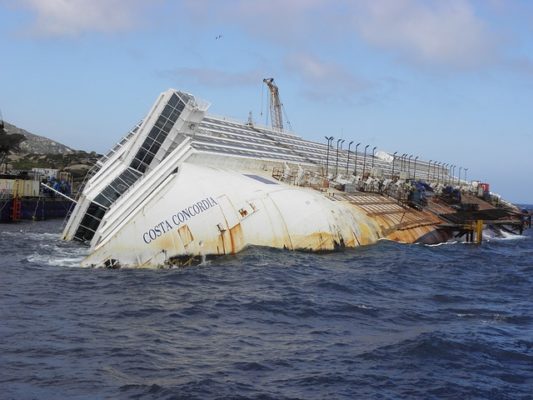 Mr Ruddy was convicted alongside British man David Freeburn (47) for stealing a bag with the Costa Concordia logo on it.
They were detained by Italian police after they were caught on CCTV entering the vessel.
South African men Melvin Lotter (31) and Hendrick Johannes Venter (33) were imprisoned for four months and received a €200 Euro fine each for violating police seals.
All four men had worked for salvage firm Titan Micoperi, who confirmed that they were fired after their arrests.
READ MORE: Google Earth captures images of the now wrecked Concordia hull. 
"The company has taken immediate action to remove (the) workers from the project," the company said in a statement in November 2013.
The prosecution had requested that Mr Ruddy and Mr Freeburn were to be jailed for a year and that Mr Lotter and Mr Venter would both receive six months in prison, as well as a €300 Euro fine each.