Ship Breaking Yards are the hot topic it seems in the cruising world right now. Ever since the world decided to take a pause due to the worldwide pandemic we call COVID-19.
At present there are now 5 Carnival Cruise Line ships at the Ship Breaking Yards in both India and Turkey. Previously we reported that Carnival had send 3 of its "Fantasy" Class ships to the breakers. All 3 of which are parked side by side at there final resting place in Aliaga, Turkey.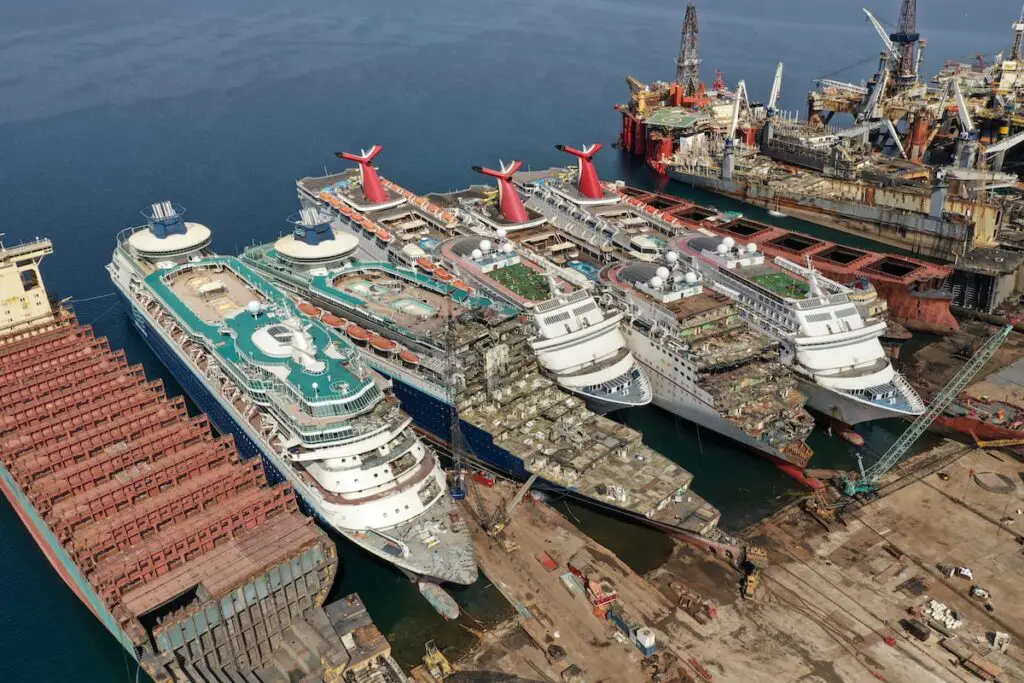 The Carnival Fantasy, Inspiration and Imagination all sit awaiting there faint on a quiet stretch of coast in Turkey. Along with 2 Royal Caribbean ships it really is a sad sight to behold
Joining them in recent days are 2 more now Ex-Carnival ships, the Celebration and Tropicale. All bit it they have since been sold on to other cruise lines prior to there now eventual scaping.
The MS Tropicale (also known as Costa Tropicale, Pacific Star, Ocean Dream) was a cruise ship that entered service in 1982, and was one of the pioneering cruise ships in the modernization of the cruise industry. The Tropicale was Carnival Cruises Line's first newly built ship, initially operating mainly in the Mexican Rivera and the Caribbean.

The latest ship to find the beach at high tide is the Carnival Celebration, Built as the "Celebration" being that it didn't receive the Carnival name change as the ship was sold off to other cruise lines prior to Carnival adding the brand title to the beginning of their ships in a later rebranding of the cruise line.
The ship was built as the Celebration in 1986 by Kockums Varv in Malmö, Sweden for Carnival Cruise Lines. The Celebration began operating for Carnival on 14 March 1987. She remained in the fleet for over 20 years until she was retired from the Carnival fleet in April 2008.
Prior to being beach it was last sailing for Bahamas Paradise Cruise Line between 2015 and 2020. It really has been a tough 12 months for a lot of cruise lines. Having been forced to sell of ships to not allow them self to face bankruptcy them selves.
The Grand Celebration only has one remaining active sister ship, the Magellan (formerly Holiday), which is operated by Seajets. A second sister ship named Henna (formerly Jubilee) was last operated by HNA Tourism. Henna had since been retired and was broken up for scrap in 2017.

READ MORE: Carnival Jubilee to be Scrapped
By far one of the most popular posts on this website is the story of the Jubilee being scrapped. Back then little did we know so many other Carnival ships were going to follow the same fate.