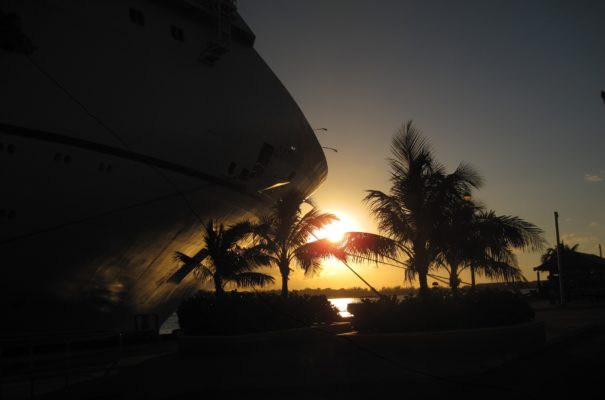 Carnival Cruise Line plans to build a new destination port in the Bahamas, located on the east side of Grand Bahama island.
Officials from both Carnival Cruise Line and the Bahamian government signed an agreement to build a record-breaking cruise port on Grand Bahama Island.  This port facility once completed it will be the largest purpose-built cruise facility ever built in The Bahamas and will be funded and operated by Carnival Cruise Line.  While the exact location has not yet been announced, it will include a one-mile stretch of beach, food, beverage and shopping outlets, an array of water-based amenities and other recreational facilities.
The new port, which doesn't yet have a name, will include a pier large enough to support two of Carnival's largest ships at once. The line said it expects to have it host up to 1 million guests a year. The line's current fleet of 25 ships includes its largest, the 133,500-ton, 3,954-passenger Carnival Vista that sails out of Miami. A sister ship Carnival Horizon due in 2018 will also call Miami home. The line has a third Vista-class ship due in 2019 as well as new class of ship that will be 180,000 tons and a 6,600-passenger capacity due in 2020 and 2022.
"Carnival Cruise Line is the leader in year-round cruising to The Bahamas and this new development will not only provide a truly extraordinary and one-of-a-kind destination experience for our guests but it will further solidify our partnership with the people of The Bahamas," said Carnival Cruise Line President Christine Duffy in a press release.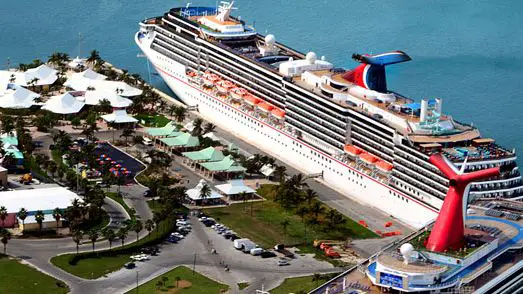 Parent company Carnival Corp. also owns Holland America Line that sends ships to Half Moon Cay and Princess Cruises that sends ships to Princess Cays. Along with those destinations on top of main Bahaman ports Nassau and Freeport, stops by all of the company's various branded ships in 2017 will already be close to bringing 3 million tourists to the island, according to Duffy.
The line sails to the Bahamas from more East Coast ports than any other line including Florida port Miami, Fort Lauderdale, Port Canaveral and Jacksonville.
The multimillion-dollar project, which is subject to a public discussion process, environmental studies and permitting, will include a one-mile stretch of beach, food, beverage and shopping outlets, water-based amenities and other recreational facilities. Carnival Corp. CEO Arnold Donald said:
"The Bahamas continues to be one of the most strategic and important destinations for our company. Signing this agreement today is especially meaningful to me, as we strive to further contribute to the prosperity of the people of The Bahamas through providing experiences that continue to exceed our guests' expectations."
While details about timetables and exact look and feel were not available, Bahamas Prime Minister Perry G. Christie released a statement saying:
"This new cruise port initiative in East Grand Bahama will deliver a cruise port in the traditional sense, but more than that, its shore project will create a new 'destination' with a distinctive flavour and characteristics that offer the broadest Bahamian entrepreneurial and employment opportunities, representing another phase in the development of Grand Bahama as a viable tourist centre."
According to a Freeport newspaper reports, the site is roughly 25 miles east of Freeport on East Grand Bahama and chosen after an environmental impact report looking to see the site's impact on the island's aquifer. The project will take two years to complete and cost around $200 million.
MORE NEWS: Royal Caribbean's new Terminal in Miami starts to take shape