Italian shipbuilder Fincantieri held a coin ceremony at its shipyard in Marghera, Italy, for Carnival Panorama, during which a commemorative coin was welded to the ship's mast in a time-honored maritime tradition.

The 133,500-ton Carnival Panorama, the third vessel from the Vista-class that includes Carnival Vista and Carnival Horizon, is set to debut from Long Beach, California on December 11, 2019.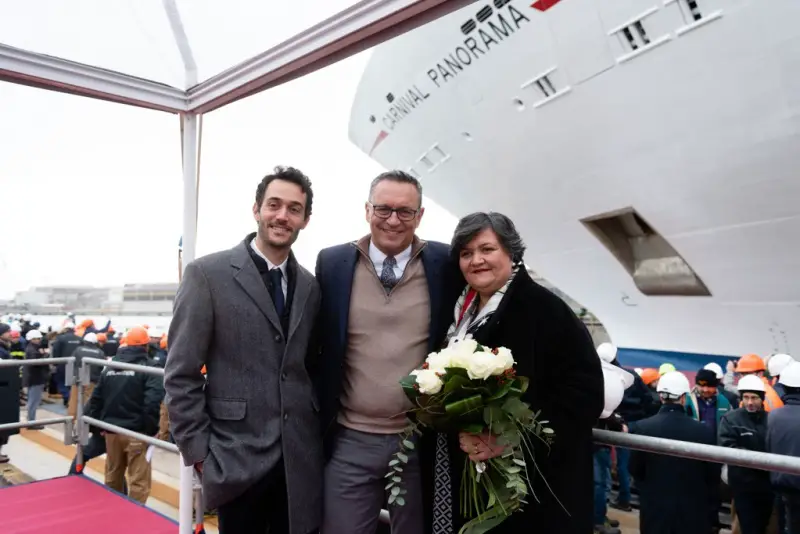 The coin itself took a memorable journey throughout the state of California before winding up at the Fincantieri shipyard, as captured by the video released by Carnival Cruise Line.
Benoit Clement, Carnival's senior vice president of newbuilds, represented Carnival at the ceremony with Antonella Cazzin, an employee of Fincantieri's shipyard in Marghera for more than 35 years, serving as godmother for this event.
Carnival Panorama was launched at the Fincantieri shipyard in Marghera, Venice on December 6. Interior fittings are underway now, leading the ship to its delivery, scheduled in autumn 2019.
At 323 meters long. The new vessel will be able to accommodate more than 4000 passengers in more than 2000 staterooms. The ship will also hold more than 1400 team members in 770 crew cabins.
MORE CARNIVAL NEWS
Carnival Mardi Gras to Feature a Roller Coaster
Carnival Cruise Line Wins Coveted Cruise Awards to Top Off 2018
Carnival Panorama Floated out from Italian Shipyard
Carnival Panorama is currently one of four ships scheduled to be delivered to Carnival Corporation in 2019. Carnival Panorama will make a special three-day voyage on Dec. 11, 2019, followed by the launch of year-round Mexican Riviera cruises beginning Dec. 14, 2019.
Voyages will depart from the newly renovated Long Beach Cruise Terminal and feature stops at popular destinations including Cabo San Lucas, Mazatlan and Puerto Vallarta.