Shocking video footage of a violent brawl aboard a cruse ship has led to a large group of passengers being removed by police.
The Carnival Legend was docked at Eden on Friday, February 16, as police officers from the Marine Command Unit and Operations Support Group boarded the vessel to question crew and passengers.
About 7am, officers from the MAC received reports of people fighting on board the ship and responded to Snug Cove, where the cruise ship, bound for Melbourne, had made a detour.
Police had been told a fight involving several men took place on board the ship after an argument about 12.45am.
Ship security intervened and detained the men before notifying the Marine Area Command.
Multiple police vehicles and officers were at the wharf area, with officers boarding the cruise vessel around 10am.
As many as 30 people are believed to have been injured in what passengers have described as "the cruise from hell".
Just before 2pm, a police craft returned to the Co-op Wharf in Snug Cove and offloaded 23 passengers into a waiting bus.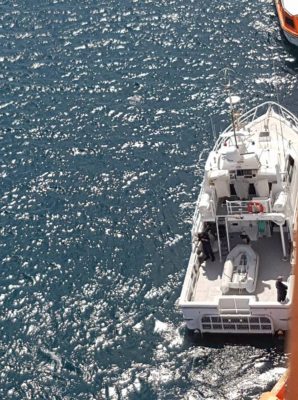 Police said six men and three teenage boys were removed from the ship, while a further 14 passengers, including women and children, also left the ship.
Several of the passengers were sporting bandages.
It's believed the group were all members of the same family, with fellow passengers telling Melbourne media trouble had been beings to brew days earlier.
"We have been told to watch our backs by this group," one passenger, Kelly, told 3AW.
"They fought in front of my children in the pool … five of them surrounded my husband.
"We're scared to go anywhere alone in the ship."
Kelly, who spent $8000 on rooms alone on the ship for her husband and three children, believed the large group joined the cruise in Melbourne.
"There is about 27 of them. A family group," she said.
The cruise was on a 10-day voyage through the South Pacific and scheduled to return to Melbourne on Saturday.
Due to the violent altercations, the captain detoured to Eden to hand the alleged offenders over to waiting police.
The group was transported to Canberra where other travel arrangements were made.
It's not known at this stage whether any charges have been laid, but Marine Area Command investigators have commenced investigations into the incident.
Anyone with information is being urged to contact police or Crime Stoppers, 1800 333 000.
'A lot of people are bleeding'
Melbourne radio presenter Neil Mitchell of 3AW spoke live on air to several passengers on board the Carnival Legend, one of whom said he had been locked in his room to await the arrival of police
Mr Mitchell also spoke to David Barko, who said his son George, 20, sustained a head injury in the bloody brawl which broke out before 1am Friday morning.
Mr Barko told 3AW his son called him, begging him to call police.
"When he called, I could hear a lot of kids crying, screaming and swearing," he said.
"He said 'All I can see is security …. up to 40 … bashing kids, bashing women, hitting them … arresting them, putting them into small rooms.
"A lot of people are bleeding, a lot of people are down.
"He said 'security came in and took my phone and deleted a lot of images because I took pictures'."
A statement from Carnival Cruise Line supplied to 3AW stated "Safety is the number one priority for Carnival Cruise Line, we take a zero tolerance approach to excessive behaviour that affects other guests and we have acted accordingly on Carnival Legend".
"The ship's security team is applying our zero tolerance policy in the interests of the safety and comfort of other guests.