So i was looking up some things on Google tonight and as i was doing that i thought i would look to see if the Costa Concordia hull had been taken away.
Actually i was trying to find a Google Earth picture of the Newest Carnival Ship to be launched the Carnival Horizon. unfortunately when you put in the shipyard address, a different ship was in the harbour ? This led me to look at the port of Genoa and to see what was left of the Concordia.
This is the picture i was thinking i would find via the Google Earth view….but i was a little wrong in my thinking.
Now, in case anyone has been living under a rock for the passed few years. Here is a little bit about that happened.
On January 13, 2012, the Italian cruise ship Costa Concordia, which transported 4,200 people, collided with rocks, just outside the coast of Giglio Island in the Mediterranean. The collision brought a deep 70-meter wound into the ship's hull, eventually causing it to be overturned.
Eventually, 32 people died, while the others managed vacated the ship successfully. On 11 February 2015, the captain of the ship, Francesco Schettino, was sentenced to 16 years and 1 month in prison for, among other things, negligent manslaughter.
The destruction of the Costa Concordia and the complex legal chaos left behind has attracted the attention of the media and the world in general; the same is the cost of saving the giant shipwreck, which could only surface with the help of a complex maneuver, which included a specially customised platform, air filled tanks and months of continuous work.
By the end of July 2014, more than two years after the disaster, the shipwreck eventually moved. Since then, it is anchored at the port of Genoa, where it will now begin to "shuffle" and sell its remains.
Below are the pictures I screen shot directly from Google Earth only tonight. I have to think there a little behind on re capturing video of certain places.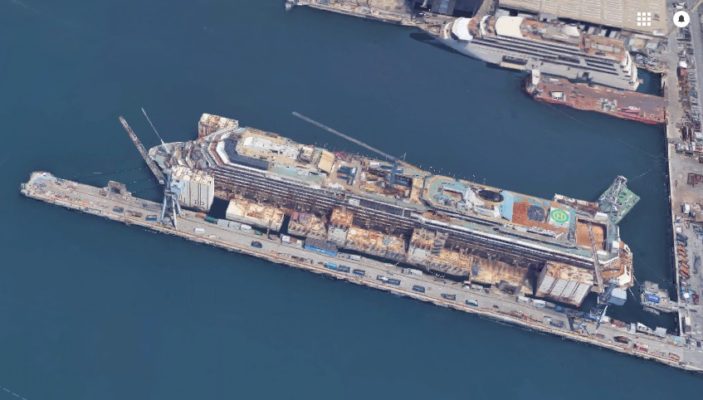 READ MORE: 400 km from The final resting place of the Concorida another ship is born.