Carnival Horizon is really starting to take shape. Today's post will show the Lido Deck and up above on Deck 11 and 12. Taking in Serenity deck and surrounding areas.
Yes. You're seeing these first, more photos of Your Carnival Horizon. Again with the help of some secret squirrels, these Lido Deck photos wouldn't be possible. Enjoy.
This post is going to concentrate on two main areas. The Serenity Adults only area and the pool areas in the midship and aft
If you aren't already caught up on other photos of the Carnival Horizon. Go ahead and click over to following pages to see other views around the ship.
Carnival Horizon – So So Close to Completion
Carnival Horizon – More of the VERY Latest Photos
Carnival Horizon – Who's ready for some more Behind the Scenes Pictures?
Serenity Deck 14 Forward
Walking around the Serenity deck right now looks a little odd. Once the decks get cleaned up and the furniture gets put in place it will all make sense.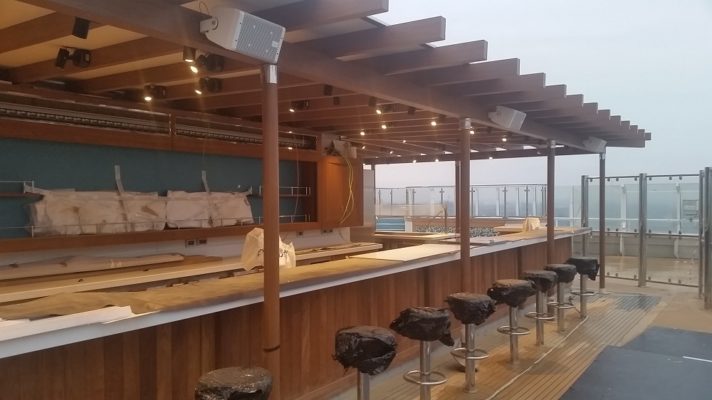 The Main Pool Area and surrounding areas.
Shown are some of the pool and Jacuzzi areas, along with the bar and good serving area. Still some work to do. There is still a lot of time.
Plus, We thought you might like one Bonus photo….I wonder how many people can guess what this photo is of…hmmm?
READ MORE: Carnival Cruise Ship For Sale? Really ….. Could it be possible?