With 2018 shaping up to be
"The Year of the Cruise Ship Launch"
We here at I Like Cruise Ships wanted to give you a small taste of whats to come. Three different lines will all launch with in months of each other. Making it a great time to take a cruise.
Water slides, race cars and craft beer, are just a snipet of whats to come. With three mega cruise ships launching in 2018, there's never been a better time to start planning your first or perhaps your next cruise vacation. The amount of activities on board  will be endless – with the trio bringing everything including:
Boardwalk arcade games
Laser tag arenas
The second of its kind 1,000-foot-long go-kart race track
A huge variety of slides (including some for only true daredevils)
plus bars dedicated to craft beer lovers, authentic barbecue eateries and Broadway shows.
Symphony of the Seas
The first new ship of 2018, Royal Caribbean's newest Oasis-class ship will be the largest in the world when it debuts in late March. Most similar to sister-ship Harmony of the Seas — both boast the jaw-dropping Ultimate Abyss slide and Perfect Storm trio of water slides — Symphony of the Seas differs in a few key areas.
Most notably, the ship will have a redesigned Boardwalk neighbourhood featuring the Playmakers Sports Bar & Arcade. The bar, which will run nearly the length of the entire Boardwalk, will be the place to catch live sports on TV, have a craft beer and some pub grub, or challenge your family at more than 20 classic arcade games. Symphony of the Seas will also feature a laser tag arena (housed in the Studio B ice rink) and a full-scale production of "Hairspray" in the main theatre.
Carnival Horizon
Carnival Cruise Line's second Vista-class ship is set to debut to the world in the begining of April. Like her sister ship, Carnival Vista, Horizon will feature the high-in-the-sky SkyRide, as well as the SkyCourse ropes course and an IMAX movie theater.
READ MORE: Carnival Horizon Behind the Scenes Photos
It also will be home to popular Carnival staples including Guy's Burger Joint, RedFrog Rum Bar, BlueIguana Tequila Bar and BlueIguana Cantina.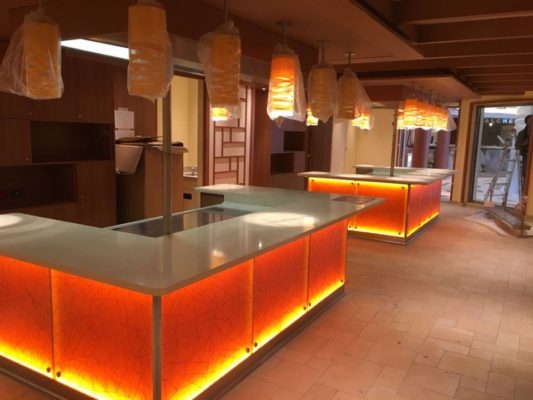 A first for the Carnival will be a hibachi restaurant (an extension of the line's Bonsai Sushi dining venue) and Guy's Pig & Anchor Bar-B-Q Smokehouse & Brewhouse, which will serve a variety of smoked meats and sides for lunch and dinner, pour a range of craft beers all day and feature live music every night.
Norwegian Bliss
When launched this will be the third ship in Norwegian Cruise Line's Breakaway-Plus class, Norwegian Bliss will feel all-new to those familiar with its sisters. It's significantly different from Norwegian Escape and the China-based Norwegian Joy (with which it shares the most similarities).
Borrowing directly from Joy, Bliss will feature a two-level, nearly 1,000-foot-long electric go-kart racetrack that runs at four speeds (up to 30 miles an hour at the fastest), as well as an open-air laser tag course.
On Bliss, the course is themed as an abandoned space station and will be open during the day and into the night. Also on the outer decks will be a large Aqua Park featuring two water slides and a kids' splash area.
The ship's Waterfront, a feature on all Breakaway and Breakaway-Plus ships, will have outside space for 13 restaurants and bars; while the Broadway hit "Jersey Boys" will headline the ship's main theatre.
So there we have it. Three brand new ships for 2018. Three completely different cruise lines, and along with that 3 total different concepts on each ship.
Which one do you want to cruise on ? Which feature are you most wanting to try out for the first time on a ship. For me its the Teppanyaki Wok on the Carnival Horizon. Followed closely by the race track on the Norwegian Bliss.