*** 5pm Sunday 25th August 2019 Update ***
As of right now Tropical Storm Dorian is expected to bring Tropical storm conditions to portions of the Lesser Antilles, where tropical storm watches and warnings are in effect.
Tropical Storm Dorian Latest
Recently issued information about Dorian has the storm located 375 miles East South East of Barbados and 485 miles East South East of St Lucia. Its current sustained winds are 50 miles per hour.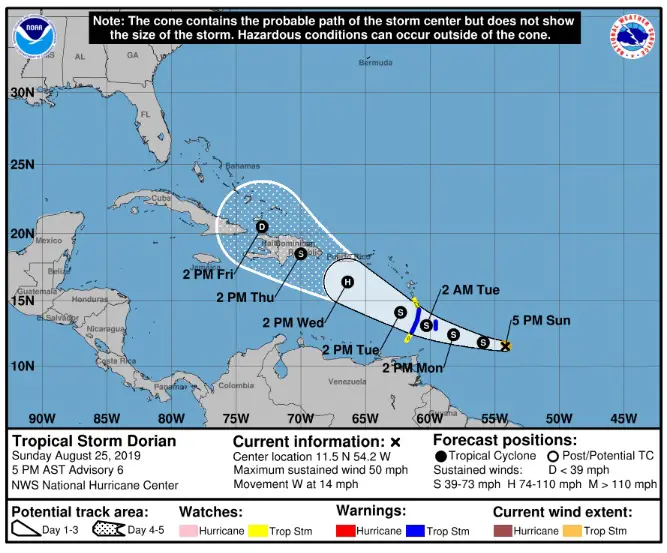 Dorian is expected to produce 2 to 4 inches of rainfall across portions of the Lesser Antilles, with some regions receiving as much as 6 inches of rainfall.
As of right now, it is too soon to know the exact time or possible landfall location, Puerto Rico, the Virgin Islands and even as far north as Haitai and Dominican Republic as being told to monitor the progress of Dorian.
Royal Caribbean Itinerary Changes
Royal Caribbean's Harmony of the Seas will now sail a seven-night cruise to the Western Caribbean instead of sailing to the Eastern Caribbean. The original itinerary had the ship visiting St. Thomas, St. Maarten, and CocoCay.
Symphony of the Seas will also sail an altered itinerary. The ship will no longer visit St. Maarten and will now have two sea days, a stop in San Juan and Labadee, another sea day, and then Perfect Day at CocoCay.
CRUISE PACKING IDEAS:
7 Things you might have never thought to bring on your Cruise
How to pack a travel First-Aid Kit
Whilst Royal Caribbean is the first cruise line to change the course of its ships. Carnival Cruise Line has recently issued a short statement via its Brand Ambassador John Heald:
"In conjunction with our Fleet Operations Center in Miami, we have been monitoring Tropical Storm Dorian in the Atlantic. Since the safety of our guests and crew is our number one priority, we will remain a safe distance from the system at all times. We will continue to keep a close eye on the weather and provide you with timely updates should any changes to our itinerary become necessary.
No other cruise lines have issued any statements at this time. If and when they do, I Like Cruise Ships will be posting any updates as to what's going to happen. It is extremely rare cruise lines will cancel a cruise, in most if not all cases the ships will change the itinerary from an Eastern Caribbean sailing to a Western Caribbean route to completely avoid any possible weather issues.