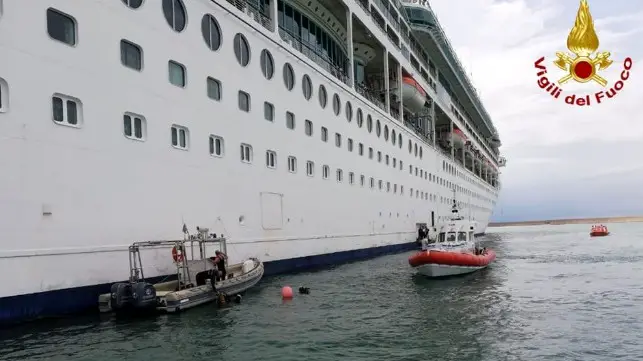 A man overboard is being reported this morning after it was discovered yesterday a crew member fell from the decks of the Royal Caribbean owned Vision of the Seas.
Vision of the Seas was docked in the port of Livorno, Italy at the time when the crew member was working on the outside decks of the Ship. At the time Vision was docked alongside a cargo ship, and the crew member fell between both ships, according to local media.
Man Overboard Search and Recuse Launched
Livorno's fire rescue team along with the harbormaster's office launched a search for the crew member, and fire department divers have since recovered his body. An investigation has been launched into the cause of the incident. 
The Vision of the Seas departed Livorno on Wednesday for her next destination, the port of Civitavecchia. Vision is currently sailing a 12-night cruise that departed from Barcelona, Spain on September 3rd. Livorno was only its 3rd port of call of the current sailing. The ship is due back to Barcelona on the 15th of September.
This is the second man overboard from Vision of the Seas in the last 24 months. A member of the housekeeping department went overboard during a December 2017 sailing out of Galveston, Texas.
READ ABOUT OTHER MAN OVERBOARD INCIDENTS:
Man Overboard, This time it's a Ship in the Caribbean
Cruise Passengers Overboard on 2 Separate Ships in 48 Hours
Coast Guard Suspends Search For Missing Cruise Ship Singer
Whilst man over boards are very tragic, it is without saying one of the most solemn things to experience either as a fellow crewmember or guest onboard. It really brings to light closeness of everyone on board at the time.